Track Record
Properties We've Flipped and Rehabbed
1000 Chance Cv, Oviedo, FL 32765
Picked this house up for $110,000 and we quickly closed 2-3 weeks Later
​SOLD 04/01/15
Chamberlin St Orlando, FL
We picked up this from a Auction and quickly closed on this beauty in 23 days
​SOLD: 8/21/15
350 7th Ave SW, Vero Beach, FL 32962
Picked This House Up For $48k Sold it to a VIP buyer 2-3 weeks later.
SOLD 2/21/16
219 Babson Dr, Babson Park, FL 33827​
​Picked this house up for $31,500 and quickly closed on this deal in 18 days
​SOLD 03/11/16
1676 Ridgewood Hammock, Deland, FL 32720​
Picked this house up for $104,000 and quickly sold to  VIP buyer in less then 5 days
SOLD 03/11/16
22520 County Road 455, Howey In The Hills, FL 34737
A TRUE BLESSING FINDING THE BUYER ON THIS DEAL , POSTED AN AD AND HE CALLED WE MEET AT
$213, 500 AFTER ALL.
BUYER CLOSED ALL CASH
FORTUNE FAVORS THE BOLD – BUYER WILL MAKE A KILLING ON THIS DEAL HAD A GREAT TIME OVER ALL WE PICKED IT UP FOR $205,000.
SOLD ​4/1/16
15662 Stable Run Dr ​Spring Hill, FL 34610
We paid 77,000 and sold it in less then 30 days
SOLD 05/06/2016
​2841 SUNRISE RD LADY LAKE FL 32159
PICKED UP THE HOUSE FOR $36,000 and quickly sold to a VIP buyer from Kentucky
SOLD – 05/26/2016
I sold this to a investor in Kentuck
30 Hancock Ln, Pensacola, FL 32503
Picked up this house for $50,000 and closed on it 13 days
Sold : 06/10/2016
11311 Lakeview Dr, Leesburg, FL 34788
Picked Up this House For $90,500 and we quickly sold it
to one of our buyer living in California!!
​SOLD : 06/10/2016
730 SW 6th St, Cape Coral, FL 33991
Picked Up this House For $141,500 ​and quickly sold it in 28 days
SOLD 06/10/2016
5773 Loring Dr, Milton, FL 32583
We Picked up this house for $69,000 and closed in 29 days
SOLD 07/01/16
546 Northbridge Dr Altamonte Springs, FL 32714
We picked this property up for $84,000 and closed in 28 days
​SOLD 08/04/2016
637 Sagamore St Lakeland, FL 33803
We picked this up for $87,000 and closed in 14 days
SOLD 07/29/2016
1633 Marengo Dr Holiday FL 34690
I bought this property and quickly sold it in less then 20 days
​307 Vine Ciff Rd Ruskin, FL 33570
I purchased this property for $120,000
I sold this to a VIP buyer in Pompano Beach, FL
5117 Magnolia Pl Sebring, FL 33872
Purchase $131,000
Sold $145,000
We sold this property in 16 days to a local cash buyer in Sebring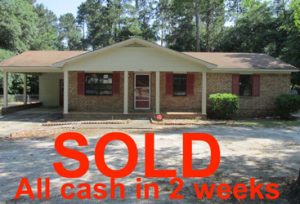 1153 Piney Grove Rd Augusta, GA 30906
Purchase $36,000
​Sold $42,500
Partnered up with one of my Jamae in Atlanta, Georgia to do this deal. We found a cash buyer in literally 14 days.
652 NE63rd St Miami, FL 33138
Purchased this property for $180,000 and quickly sold it to a VIP buyer. We closed in 16 days
19829 Bay Lake Rd, Eustis, FL 32736
​We rehab this property and got private loan from our lender Jim for $101,500 at 12% Interest Rate.
Loan Numbers
$51,500 for Purchaser
$50,000 for Repairs
Total $101,5000
We used the loan for 6 months making him $12,000
Pending Sale $225,000
Galgano Way Bonita Springs, FL 34135
I picked this property up and sold in 3 days to one my buyers on my list.
We set to close in 20 days.
11/14/17
110 Wax Myrtle Ln Longwood, FL 32779
Pick up this property and flip it for a quick $20,000 in less then 20 days
closed on 01/17/2017
​495 N 70th Ave Pensacola, FL 32506
I got this property and sold it pretty quickly. This property was worth $200k
2985 Bay St Saint Augustine FL 32084
I picked up this property and closed on it in 13 days
5332 Ogilvie Ln Saint Augustine, FL, 32086
Great deal! I sold this property is few minutes to one a buyer on Premium list.
196 N Lake Ct Kissimmee FL 34743
I picked this property up from a post card and closed in 14 days
10800 US HWY 19 N Apt 108 Pinellas Park, FL 3378
I pick this condo up and quickly sold it to someone on my VIP Cash Buyers list
232 N Sycamore Ave. Clifton heights, PA 19018
I picked up the property and closed on it 26 days
1627 Mt Pleasant Rd Havertown, PA 19083
I picked this property in Delaware County and quickly closed on it 17 days
202 W Goepp St Bethlehem, PA 18018
I picked this property from a private lead. Closing is pending